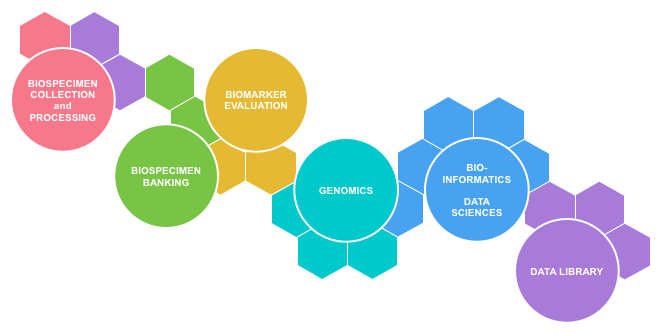 We are a joint lab with Dr. Kord Kober.
Our lab performs a continuum of wet and dry laboratory methods in support of molecular, genomic, and data science analytics used for Nursing research.
SON Investigators
Our group of interdisciplinary researchers are spread across the School of Nursing and represent a diverse set of research programs.
    Elena Flowers
    Kord Kober
    Christine Miaskowski
    Heather Leutwyler
    Monica McLemore
    Annesa Flentje
    Glenn-Milo Santos
    Xiao Hu
Molecular (Wet) Lab
Our lab performs a variety of molecular techniques to support our research projects, including:
    Training students, Post-docs, faculty on molecular techniques and study design
    Specimen processing (Biohazard risk group 2)
    Specimen banking (>6000 patients, >20,000 specimens)
    Specimen types (blood, hair, saliva, urine)
    Patient populations (oncology, diabetes, cardiovascular disease, HIV, substance use, preterm birth, mental health disorders)
    Isolation of nucleic acid (total RNA, small RNA, DNA), serum, plasma from blood
    Host (Human) and virus (HIV) nucleic acid processing
    Gel electrophoresis
    PCR
    qPCR
    ELISA
    Sanger sequencing (using core facility)
    NextGen library preparation and sequencing (DNAseq, RNAseq using core facility)
    Custom and whole-genome microarray (i.e., genotype, transcriptome, and methylome using core facility)
    Core facilities used: UCSF Genomics core (now defunct),  UC Berkeley DNA Sequencing Facility, UC Berkeley/QB3 Functional Genomics Laboratory and  Vincent J. Coates Genomics Sequencing Laboratory, UC Davis Genome Center DNA Technologies and Expression Analysis Core Facilities.
Computational (Dry) Lab
We have a modest but powerful computational infrastructure consisting of compute nodes, storage nodes, and administrative (e.g., monitoring and backup) servers.
Our lab applies and develops a variety of computational approaches, including:
    Training students, Post-docs, faculty on bioinformatics techniques and study design
    High throughput 'Omics data collection, storage, backup, wrangling, and retrieval
    Microarray data processing
    DNAseq/RNAseq alignments
    Variant calling (e.g., GATK, MARSS)
    Population genetics (GWAS, candidate gene associations)
    Population epigenetics (methylation)
    Whole-transcriptome differential gene expression and pathway analysis
    Data-integrated 'omics analyses (e.g., transcriptome and methylation)
    Data analyses pipelines
    Comparative Genomics
    Phylogenomics
    Machine Learning